5 Big Benefits of Blended Learning
With digital transformation sweeping through enterprises today, it's never been more crucial for organizations to close skill gaps in emerging technologies. Hiring isn't always the answer. The extreme shortage of candidates for roles in Artificial Intelligence (AI), Machine Learning, Data Science and other disciplines is one reason why training from within—and upskilling your existing employees—makes the smartest, fastest and most cost-effective solution.
If you're more of a visual learner. Here we'll sum up the main points of the webinar, focusing on the benefits of blended learning.
What Is Blended Learning?
Blended learning, also called "flipped classroom," "hybrid learning" or "mixed learning," is an approach that mixes instructor-led classroom training with online content, usually in the form of on-demand videos that learners review outside of class. The live instruction can be face-to-face or online (via a live virtual classroom or even two-way video), or there might be no live lecture at all.
Blended learning can also combine other elements besides content and instructors. For example, in a blended learning study published in 2018, one university completely excluded lectures (face-to-face or virtual) but instead used a mix of videos, digitized reading materials, pre- and post-learning assessments, practice exercises with feedback and weekly surveys, with face-to-face elements in the form of study groups, presentations, formative assessments and other peer interactions.
Benefits of Blended Learning
Blended learning represents a fundamental shift in instruction methods. It has the potential to optimize outcomes for individual students in ways that traditional instruction can't. Blended delivery modes allow for each aspect to be taught using the most appropriate medium for the topic at that particular stage in the training.
Extensively studied and practiced in K–12 and university education, blended learning also offers an ideal solution for improving corporate training, especially when it comes to upskilling employees for the quickly evolving digital economy. Here are five reasons why.
1. Different people learn different things in different ways.
It's pretty common knowledge that different people learn differently. In 1992, researchers Fleming and Mills developed a popular model of learning styles called VARK: Visual (when people learn best by sight), Aural or Auditory (when people learn by hearing or speaking), Read/Written (when people learn when things are displayed as words) and Kinesthetic (when people learn by physical use or practice).
Other researchers have broken these modalities into even more distinct learning styles, adding Logical (when people prefer using logic or reasoning to understand concepts), Social (when people learn through interaction with other people) and Solitary (when people learn best alone through self-study).
With so many different learning styles to address, a blended learning solution makes sense. For people who learn visually or through reading and ideally alone, online self-paced video delivery would be the best mode. Social and aural learners would gain most from live instructor-led classrooms. Meanwhile, hands-on practice from engaging in applied learning projects would satisfy kinesthetic and logical learners.
2. Using multiple modalities dramatically reinforces engagement, learning and retention.
Numerous studies show how for most people, learning is improved by combining different activities alongside more passive study. Ideally, these could include the "human" element of interaction, such as threaded discussions, video conferencing and internal social media forums to share and compare knowledge and to encourage and demonstrate the effective application of newly learned skills to the workplace.
By utilizing as many learning delivery methods as possible (video, live instructor, social and practical), you can fill in any knowledge gaps left by modes that were less than optimal for the specific topic or learner.
3. Learners can control the pace of their learning.
People learn best when they have some control over their learning. Choice reduces learner apathy, relieves some of the stress of the learning process and motivates people to engage with the material. Corporate learners differ from traditional students. Most employees deal with time constraints, as they have to balance heavy workloads and their personal lives. Also, their coworkers come to the table with a wide range of knowledge and experience with the course topic.
Blended learning enables employees to study online, as quickly as they can manage, instead of having the pace set by the fastest or slowest learner in the group. They can skip ahead past familiar information or pause, rewatch and seek additional resources. They can also access the content when they are most alert and even take breaks as necessary. This "flipped" blended approach enables learners to start with the knowledge they gained on their own and then supplement it with the personal attention of instructor-led classroom training (either virtual or on-premises), plus the group interaction of social learning and finally, the hands-on practice of applied learning projects.
As noted by Clifford Maxwell, an education researcher at the Clayton Christensen Institute, "some element of student control is critical; otherwise, blended learning is no different from a teacher beaming online curriculum to a classroom of students through an electronic whiteboard."
4. Blended learning saves money.
Organizations of any size can optimize return on investment by saving costs while increasing engagement and retention by integrating eLearning into instructor-led programs. Blended learning reduces instructor fees, company travel expenses and training materials; enables distance learning at a global scale; and can greatly soften the impact training has on daily operations and the employees themselves. For example, "Ernst & Young cut its training costs by 35 percent while improving consistency and scalability with eLearning," says Mark Rose, director and founder of Creativedge Training and Development. "They condensed about 2,900 hours of classroom training into 700 hours of web-based learning, 200 hours of distance learning and 500 hours of classroom instruction, a cut of 53 percent."
5. Blended learning is modular and scalable.
Especially useful for large, global enterprises, blended learning is modular and scalable, both upward and downward. Dedicated classroom training takes a lot of time to set up and participate in, making it not economical on an ad hoc basis.
However, online learning libraries alone lack the engagement, practical exercise and personal feedback that optimize learning. In contrast, by providing easily accessible training content backed by opportunities for live virtual-instructor interaction and applied projects, a blended learning program enables employees to upskill quickly in a specific technology or subject. As eLearning designer Troy Foster says, "Modular courses increase agility and thereby the organization's capacity to capitalize on new business opportunities as they arise."
It's ideal for training a dispersed workforce. According to Upwork's Future Workforce Report, 63 percent of companies have remote employees. By complementing anytime online content with localized instructors, blended learning enables both scalability and the cultural personalization required to achieve training globally. Boeing, the world's largest aerospace company with 330,000 employees in 28 countries, successfully uses a mix of learning and development methodologies, from online modules to "lunch-and-learns," one-on-one training and live virtual classrooms.
A Final Big Advantage of Blended Learning
With a blended learning approach, you don't have to invent anything or depend on ad hoc fixes to increase the effectiveness of your employee training program. Proven solutions are already available from third-party vendors, like IT Nuggets, who can supply and guide you in the best customized blended learning solution for digital upskilling. Jane Hart, Editor of Modern Workplace Learning magazine, says, "For real transformation to take place, it's not a matter of having a 'bolt-on' strategy to existing training practices ('typically social and mobile'), but rather 'a full-on, meaningful re-conception' of what it means to support all ways of learning in the modern digital workplace."
For more information on blended learning, Read white paper  "Why Blended Learning Is the Fastest Way to Close Digital Skill Gaps"
Top 6 Employee Retention Strategies for Your Business
Finding the perfect employee isn't easy. You want people with the right education, skills, qualifications, experience, and personality to make operations run efficiently—catapult your organization to the top of the industry.
The problem is, other organizations want those people too, and they're doing their best to recruit them away from you.
If you're lucky enough to hire stellar people, you can't stop there, because finding talent and retaining them are two different things.
What is Employee Retention?
Employee retention is the art and science of keeping your employee satisfaction levels high enough to keep the turnover rate and recruitment costs low.
Although one article can't cover all the possible strategies for boosting employee retention, we'll cover six of the top employee retention strategies here.
When you're ready to dig deeper, IT Nuggets provides corporate training in employee retention (and in many other areas) through a blend of online learning, live virtual classroom training, mentorship, and labs.
Why Do Employees Resign?
When it comes to retaining employees, it's essential to understand common reasons that spur them to leave in the first place. Then you can take measures to prevent those problems at your company.
No Progression
People don't like to stagnate. They're willing to take entry-level jobs, but that doesn't mean they're willing to stay there. If a person doesn't receive well-deserved promotions and opportunities for career acceleration at your organization, he or she will look elsewhere to receive them.
Poor Leadership
In January 2020, Career Addict surveyed employees who had voluntarily left their jobs for other work. 40 percent of those surveyed indicated that they'd return to their former place of employment if their previous boss were replaced.
Management issues such as discrimination, micro-management, lack of empathy, and inflexibility often sabotage employee retention.
Poor Benefits
One surefire way to negate your employee retention strategy is to offer lackluster benefits. Enticing benefits are sometimes more important to people than the paycheck itself, and these can include:
Medical
Dental
Vision insurance
Paid time off
Paid holidays
Gym memberships
Flexible hours/locations
Childcare options
As you might expect, prospective employees will undoubtedly be willing to entertain offers from your competitors for the same pay if those competitors offer better benefits.
Hostile Work Environment
A work environment can cover anything from physical facilities to relationships among colleagues. A hostile work environment is one of the foremost problems that push good people out of an organization's door, whether hostility is due to an uncomfortable atmosphere, unsafe surroundings, unpleasant people, or any combination.
Low Pay
It may surprise you to hear that a bigger paycheck is not the number one reason for people leaving their place of employment. This reason does make a list, indicating that while money isn't everything, it still matters.
Employers who aren't willing to pay competitive market prices will struggle to attract top talent. They'll also struggle with employee retention because their people will be willing to look over the fence when recruiters from companies with better pay and benefits come calling.
How Can We Improve Employee Retention?
The best employee retention strategies will address the biggest employee retention problems. Here are six ways to do it.
1. Provide Opportunities for Advancement
According to the Consumer Technology Association (CTA), skills training and professional development programs are two of the top ways of retaining employees. This is because employees see those programs as a company's investment in their future and an indication that they're being honed for promotional opportunities.
Wherever possible, companies who wish to retain their employees should consider hiring and promoting from within.
2. Provide Effective Management Training
Some people are good at organizing and managing logistical affairs, but they're not necessarily natural leaders. However, true leadership can be a learned skill. Train your managers to be empathetic, flexible, reasonable, transparent, and cooperative, and they'll add those skills to their already formidable business knowledge. In turn, these managers will inspire great work and loyalty in others.
3. Reach the Millennial Generation
Engaging and retaining Millennials has become more important than ever when it comes to mitigating the costs of employee turnover. But how do you do this?
The engagement drivers within your organization should be identified and monitored, as these can change over time. Targets and goals for your engagement strategy should be carefully crafted to account for the modern ambitions of Millennials.
You can do this through a routine monitoring process and surveys. Transparency is also essential to this generation. As Millennials believe in continuous learning and self-development, it's also imperative that you offer opportunities to reskill and upskill themselves whenever possible.
4. Offer the Best Benefits You Can Afford
Sure, benefits packages can be expensive. However, when you offset those expenses against the cost of high turnover, you'll see that you can't afford not to offer attractive benefits. Do your research and find the best package you can afford, and the resulting employee retention will be worth your investment.
5. Listen to Employees and Implement Their Suggestions
Another key element of any effective employee retention strategy is to get reliable feedback from your employees to see how they're feeling about their jobs and their work environment. Talk to them. Listen to them. Conduct surveys (formal and informal) and evaluations to see if they're comfortable in their physical environment and get along with colleagues and supervisors. Then, internalize and implement any reasonable suggestions they make, so everyone feels heard and valued. Steve Olenski, the former contributor to Forbes online, reminds you to "always put your people first."
6. Do Market Research to Offer A Competitive Wage
A crucial element of retaining employees is knowing what your competitors pay similar talent. Is your pay for above average in the industry? Do your market research and stay competitive.
As Robert Half asserts, "Quite simply, companies that don't offer competitive pay packets can put themselves out of contention when it comes to sourcing [and keeping] top talent."
Improve Employee Retention with Corporate Training
ITNuggtes training in emerging technologies is transforming our economy. Our blended learning approach drives learner engagement and the industry's highest completion rates.
Did you know that hands-on, interactive learning is five to seven times more effective than simply reading or watching course material? For this reason, our corporate training curriculum includes the following:
Live online classes
Mentoring
Labs
Projects
Self-paced videos
And more
IT Nuggets implementation consultants will work with you to design the best training program for your company. Unlock your team's potential today!
The Ultimate Checklist for Choosing Online Courses in the Latest Technologies
Today's technologies are evolving every moment at a mind-boggling speed. The latest developments in the field of IT are rapidly changing the way enterprises run across the world, giving rise to promising career opportunities today and in the foreseeable future. The newest technology trends like Data Science, Artificial Intelligence, Machine Learning, Cloud Computing, Robotics, Cybersecurity, Internet of Things and digital marketing are some of the areas where there are ample job openings and a shortage of skilled professionals.
Online Classes offer Industry Recognized Certification and Efficient and Flexible Training Methods
Online classes are a great way to get trained in these emerging technologies in the early stages and position yourself for a successful and exciting career. Online information technology classes that offer current, validated courses and industry-recognized certificates can help you make a breakthrough in the market as a high-paying IT professional or accelerate your career in your current job by getting you upskilled in the latest developments in your field.
Whatever your learning objective, an excellent online education gives you an affordable, flexible, and efficient training that is industry-recognized to ensure that you stay ahead of your professional competition while adding a valuable certification to your suite of professional skills.
Choosing the best online technical courses from a myriad of online learning platforms available on the web is critical for your professional success. This is to ensure that you are receiving contemporary and legitimate online education that will lead you to formal certification.
Here is a concise discussion that covers the benefits of online IT education in the backdrop of today's job scenario and will help you choose the best online information technology courses to jumpstart your IT career.
Benefits of Online Classes and Business Management Courses
Online education is witnessing a boom with reputed universities and businesses recognizing its potential. Gone are the days of the stigma attached to online degrees. Online certificates today are vastly acknowledged for the advantages it brings to the students and the opportunity of maintaining a professional edge it provides to the current IT employees.
People in all stages of their career find online classes an accessible and promising option to get a leg up in their jobs. The reasons are:
Helps Provide Upskilling While at Job
In today's digital world, technology is driving rapid changes across all sectors of business. Technology itself is also rapidly evolving and continuously emerging to align with newer business requirements. This is giving birth to the need for IT professionals to stay upskilled and updated on technological trends to gain a competitive edge in the job market.
Beyond upskilling, more and more students and professionals in the middle of their career graph are choosing online courses to diversify their skills and add value to their skills to differentiate their talents from the competition – a prudent move to adapt to the uncertain world economy.
Helps You Stay Relevant in Rapidly Changing World
Digital transformation is initiating big changes in the way we live and learn. With textbooks fast becoming outdated, e-learning courses provide opportunities for fast editing and updating of relevant and fresh materials, in real-time, benefiting students and employees who can learn in-demand skills at the convenience of their homes or offices at a time suitable to them.
Focused Learning Objectives
Online technical training programs in the latest IT trends offer you to master in-demand and advanced skills. These courses are curated to meet focused learning objectives and provide extensive training that combines instructor-led classes and self-paced learning. Simplilearn's Data Scientist Master's Program is co-developed by IBM is one such example of a market-ready online course which has a capstone project within its curriculum where students get to build a real-time industry product.
Soft Skills Development
Interpersonal and communication skills, problem-solving attitudes, and maturity are some of the soft skills that are prerequisites to your success in the IT industry.
Online information technology courses not only equip you with technical knowledge that makes you industry-ready but also help students and employees to imbibe soft skills. More and more companies are looking to recruit employees with emotional maturity and a growth mindset — essential skills to think and solve problems critically and adapt to new changes.
Accessibility 
Online education has helped to bring down the barriers to making education accessible to all. Higher costs of traditional, in-person IT education environments have kept many lesser privileged students from gaining higher education that may significantly transform their lives.
Networking
Remote working is fast becoming a new normal in today's business world. The online learning environment provides you with multitudinous opportunities to learn, engage, and network with colleagues and other learners online.
How to Choose the Best Online Classes?
Online certificate courses in business management or online digital marketing courses are widely popular today. This is because of the availability of lucrative jobs in these fields but also because a reliable online information technology course gives you confidence and competency and necessary skill set to progress in your career.
Online courses that provide real-life working scenarios are best suited for IT job aspirants. However, it is also equally beneficial to you if these courses have a balanced curriculum. While choosing your suitable online classes, make sure they tick off the following list:
Course validated by industry experts – Make sure the course you enroll for is backed and endorsed by experts, and the curriculum is designed by leading industry professionals.
Globally Recognized Certificates – Make sure the certification you earn from the online course is recognized by the industry and across the globe. The certificate should be a valid proof of your skills, knowledge, and high standards of learning.
Self-Paced Learning – Giving you access to the curriculum, materials, and course content 24/7, the course allows you to learn and progress at your own pace.
Provides Career Opportunities – It is essential to know if the course offers you potential job information.
Relevant Material – The course material is frequently updated so that it stays market relevant.
Robust Support System – Your course has access to dedicated phone lines, email support, online chat, including relevant case studies blog posts, ebooks, and whitepapers for additional industry insights.
Why Choose Only Certified Online Information Technology Courses
Almost all reputed online courses that aim at getting their students to learn skills that are essential for success in the modern workforce provide globally recognized certification. The top three benefits of such certified courses are:
Mark of Increased Marketability – Employers in most countries like Australia and Canada offer high paying IT jobs to candidates with certificates. They are always keen on hiring professionals with work-ready credentials — that display proofs of your readiness for jobs such as lab work and hands-on projects — to join the workforce immediately. Certificates that you receive on successful completion of online courses are a mark of your increased marketability as a candidate in the job market. This puts you at an advantage over your competitors.
Mark of Relevance in the Job Market – Online education comes with the benefits of easy accessibility and flexibility. Anyone from anywhere can access online courses, irrespective of whether you are a student or already a busy IT professional. These courses are designed to help you stay up-to-date with your skillset and to remain relevant to the current technology trends.
Mark of Credibility – Certificates in courses on information technology are stamps of approval and add credibility to your portfolio. These are proof that you are a confirmed expert in your field who is prepared to join today's IT workforce with all relevant professional and software skills that are needed to succeed.
Automation, as and when it goes mainstream, is poised to have a great impact on the future of IT jobs in India. Once you have confirmed your aim and career goals in this world of emerging technologies, you can make use of the above points as a checklist to choose a suitable online course. Your online course should offer you learning opportunities that will eventually lead to improved workforce preparation and a successful career in an increasingly competitive and constantly evolving digital world.
Download our brochures to learn about Simplilearn online courses. We offer you an array of certified online classes in the world of the latest technologies that will help you meet the challenges of tomorrow and future-proof your career.
Upskilling – the World's Top New Economic Priority
The world is on the cusp of a new age, in which technology, data, and intelligent automation become most powerful drivers of economic success. And yet, in spite of the excitement and enthusiasm this digital transformation is inspiring, there is increasing concern that certain demographics may be left behind as the transformation unfolds. At the recent World Economic Forum (WEF) meeting in Davos, Switzerland, the alarm was sounded over the Global Gender Gap Report that showed that progress toward parity between men and women in technical roles had dropped since the report from the previous year. The top theme at the meeting was how to address the global gender gap, as well as the impact of automation technologies such as artificial intelligence (AI) on the global workforce.
Upskilling Is the Name of the Game
The WEF launched its new SkillSET project, supported by many of the world's top technology providers and targeting a million workers over the next three years. The SkillSET foundation includes a web portal and upskilling enablement framework to ensure that today's workers can adapt to fundamental changes in the technology landscape, "future-proof" essential skillsets to land digital-oriented jobs and ensure that all demographic groups have equal access to skills training on these critical fields.
Turning to the digital channel to enable technology skills training makes perfect sense. Online skills training has been a red-hot market over the last few years as professionals gear up for the digital future, and it yields real benefits. A Research Institute of America report illustrated that e-learning boosts retention rates by 25 to 60 percent, compared to retention rates of 8 to 10 percent with traditional training. The next generation of online learning management systems is purpose-built to give learners more flexibility to learn at their own pace and the ability to interact with instructors, teaching assistants and other class participants easily in virtual classrooms and after classes through the digital medium.
Tech Skills and Business Skills Are the Highest Priority
The WEF concluded that a wide range of technology and business skills are paramount to helping workers "move up the digital food chain" and stay competitive for the most in-demand jobs of today and tomorrow. From a business skills standpoint, the WEF identified project management, customer management, and general business skills as the new basics. Project management, in particular, has been a fast-growing field, with a projected 15.7 million new project management roles to be added globally by 2020. Moreover, 80 percent of "high-performing" projects are led by a certified project manager, and those with certifications such as the Project Management Professional (PMP) earn 20 percent higher salaries than their non-certified peers.
And on the technology side, new roles in data science, AI, machine learning, deep learning and other advanced skills are taking the market by storm. Jobs that require AI skills have grown by 4.5X since 2013, and investment in AI startups by venture capitalists has grown six-fold since 2000. Jobs in advanced intelligent automation and data-driven industries such as financial services, cyber security, and digital marketing services will fuel growth in the coming years, creating a vital need for big data architects, digital marketing specialists, machine learning engineers and countless other technology positions.
Automation Can Be a Job Enabler
As industries ramp up their manufacturing and internal processes with advanced automation systems, there is some concern (which was also addressed at the WEF event) that automation might have a negative impact on jobs. However, automation doesn't have to be a job killer. A recent report by WEF showed that in Germany, which has more industrial robots that the U.S., job losses simply haven't occurred. Researchers from the Universities of Würzburg, Mannheim, and the Düsseldorf Heinrich-Heine University examined 20 years of employment data to figure out how much of an effect the growth of industrial manufacturing has had on the German labor market. They found that despite the significant growth in the use of robots, they hadn't made any dent in aggregate German employment. While some manual jobs might be lost in the long run on automation lines (not immediate replacements), they have the potential at being replaced by higher-paying technology jobs that drive the automation itself.
Digital Transformation Is Alive and Well
Intelligent automation is a key component in the digital transformation we are witnessing globally. An Accenture study reported that 92 percent of businesses feel that intelligent automation that makes use of AI will be put to wider use in their companies within the next 12 months. And while a large majority of companies know that digital transformation is a competitive opportunity, about half of executives feel that a lack of familiarity with technology is a barrier to digitally transforming, according to Capgemini. The benefits of digital transformation are everywhere, from improving customer engagement and revenue to boosting employee morale. Upskilling will remain the primary driver of filling the gap in needed technology proficiencies.
When the World Economic Forum puts its weight behind initiatives like SkillSET, you know that mindshare in upskilling is primed to spike. Easy access to online skills training—where everyone has an equal chance at learning and improving their career opportunities—will provide the foundation for making these types of training programs work. And that is something that every business and individual can embrace.
The Secret Recipe to Building High-Performing Teams
Although history (and Ayn Rand novels) celebrate the lone-wolf entrepreneur, great teams play an equally important role in the success stories of modern conglomerates. Think Google, Ford Motor Company, or Walt Disney, and you will realize this fully. With digital technologies altering the working environments, building high-performing teams have become increasingly critical for businesses.
The Definition of a High-Performing Team
A high-performance team is a group of highly skilled people working in cross-functional areas and who focus on achieving a common business goal. The team is aligned with and committed to shared values and vision and work towards a common objective. This highly effective team is innovative in problem-solving and is known for displaying a high level of communication and collaboration, delivering consistent and superior results.
Characteristics of High-Performance Teams
Certain unique attributes separate a high-performing team from any other. Let's look at some of them.
Effective Work Practices
A plan of action behind high-performance building teams is critical. Without proper planning and necessary resources deployment, high-performance teams cannot be made effective or efficient. This is at the very foundation of high-performance teams. Ineffective work rules will cause problems in organizing and evaluating information and hinder risk-taking attitudes, creativity, and innovation.
Mutual Respect Among Leaders and Team Members 
Skilled members of high-performance teams are aware of and recognize each other's expertise and working methods. This results in creating a strong bond among the team members and helps create opportunities for capacity building and increased productivity. The team accomplishes challenges as a single entity, and their collective will to deliver the best results is driven by shared values and a sense of integrity.
Shared Vision
High performing team members share the same values and vision. They work together as a motivated team towards this vision and common objective while being focused on delivering the best business results and solutions.
Open and Clear Communication
The leader of such a team cites the team's vision and goals, clearly and relentlessly. An open channel of communication always exists between the members and their leader that creates an environment of constructive criticism and feedback.
One of the Best High-Performing Team Models
This graphical representation below is of a high-performing team model from Performance Factor, a book by Pat MacMillan, CEO and Founding Partner of Triaxia Partners. It is one of the best graphical explanations of a model of a high-performance team. The model resembles a circle in which each component is linked with each other to show how each is equally vital in producing the desired solutions in achieving the best business results.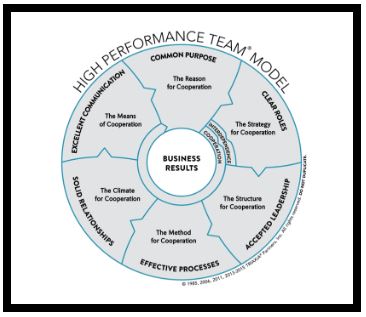 How to Build a High-Performance Team 
"No matter how brilliant your mind or strategy, if you're playing a solo game, you'll always lose out to a team," – this is the way Reid Hoffman, LinkedIn cofounder considers the value of High-performing teams. While they are valued by investors and leaders of tech giants alike, building a high-performing team is quite a task, especially when technology is remodeling the working environments rapidly.
As a team leader, if you want to drive your team to new heights and increase employee productivity, here are a few tips to get you started:
Create a Stable Team
According to a McKinsey article, written by their senior partners Scott Keller and Mary Meaney, on proven techniques to build high-performance teams, team composition, lies at the very foundation of building effective teams. They opine that high-performance teams should ideally be kept small but not too small as that is "likely to result in poorer decisions because of a lack of diversity, and slower decision making because of a lack of bandwidth."
On the other hand, according to Keller and Meany, big teams, comprising more than ten members, result in diminished effectiveness as sub-teams start to form, encouraging divisive behavior. The authors stress that beyond team-size, IT team leaders / CEOs should look for complementary skills and a pro-team attitude in each member – essential aspects of building and maintaining a high-performance team.
Mike Levison, a reputed and certified scrum trainer, emphasizes the importance of forming a stable team in his article. According to him, care and time should be invested to hand-pick a stable team, and once the team is formed, all care should be taken to maintain its stability.
Build a Cohesive and Value Aligned Team Dynamics 
While elaborating on the success factors that drove a group of high-performance teams, Francine Katsoudas, chief people officer for Cisco — a company renowned for its growth and innovation — says, "Teams with shared values in where they are going perform better."
It is vital to create a team where each member shares a bond and interacts freely. This happens when they align with the team leader's values and work in unison to achieve a common goal. When team members start believing that they can win together, they get more done. Shared values, high-level of interaction, and a sense of trust among members — aspects that constitute a cohesive team, increase productivity in great measure.
Mike Levison, warns that while a cohesive team can deliver more and at a faster rate than other teams, it runs the risk of becoming "over-cohesive and susceptible to group-think."
This may steer the team in the direction of wrong assumptions if allowed to go unchecked.
The role of the leader stands undisputable in tackling this. In his Forbes article, on ways to build high-performance teams, Joseph Folkman, author and co-author of 13 books on leadership skills, reiterates the importance of leaders helping team members to stay focused on the vision through constant communication. Be like a "broken record" – he advises the leaders and directs the team towards accomplishing the goal.
Encourage an Environment of Open Communication
Team members often hold themselves back from voicing their opinions and thoughts in meetings because they feel too vulnerable to do so. This lack of psychological safety is counter-productive, and leaders should take care to build a working environment that fosters interpersonal risk-taking. This kind of team culture will motivate employees, encourage innovation, and help take new ideas to implementation levels.
To increase the effectiveness of a high-performance team, leaders should also understand and evaluate team members' style of working on an individual level. Many leaders apply team-building indicators like Belbin High Performing Teams, the Myers-Briggs Type Indicator, the Herrmann Brain Dominance Instrument, etc. to understand behavior, personalities, and thinking styles of team members.
Stress on the Importance of Learning
Fostering a culture of continuous learning to navigate the issues of skill gaps and different digital transformations is essential to build a high-performance team. Technology, especially emerging technologies, are always changing. As a result, corporates are stressing on the importance of their teams' ability to learn fast and regularly skill up. Although a significant amount of learning takes place between team members, upgrading a team's ability through documentation tools and training is equally essential in building a high-performance team.
Learning is becoming a priority in enterprises, many of whom are turning to online learning platforms like IT Nuggets to provide their employees with corporate training in emerging technologies. These online training platforms provide industry-recognized and certified courses on the current and relevant topics that help experienced IT employees to skill-up and new hires to ramp up faster. The corporate training programs, conducted by reputed online education companies, often tailor their training and upskilling programs to align with the corporate development plans. These programs that offer hands-on, interactive learning, are likely to be more effective than merely reading or watching course material on company web pages or knowledge bases.
Set Measurable Goals
Setting measurable and effective goals with clear intent is critical to building a high-performance team. With a set common goal to achieve, high-performing team members find themselves motivated, energized, and more creative. Common values align with helping them accomplish more in less amount of time – the signature virtue of any high-performance team. Rewards and recognition for effective performance also keep the mood of such teams upbeat and efficient.
Benefits of Having High- Performance Team 
Organizations that focus on training their leaders and building high-performing teams in the emerging technology domain reap significant rewards and return on their investments. One cannot overemphasize the role of leaders in building high-performing teams and companies that invest in developing leadership skills, which eventually transform into high-performing organizations with a workforce with increased productivity.
Benefits for Employees
Members of a high-performance team are focused and engaged, working towards a common goal with shared values, complementary skill-sets, and under leadership that fosters open communication and recognizes and rewards performance. They are motivated and have equal stakes in the outcome. This sharing of values and a feeling of trust result in greater efficiency and productivity.
Benefits for Organization
For an organization, high-performing teams can bring the following benefits:
Knowledge and independence with greater flexibility
Motivated employees who innovate and are willing to take risks
Better client service
Increased engagement
Organizations need high-performance teams to perform result-driven business activities, and to tackle specialized projects that call for an efficient task force. High-performance teams efficiently support process change within the businesses with their multipronged communication capabilities and skill sharing.
Developing High-Performing Teams: The Way Forward
High-performing teams are critical in helping organizations thrive and survive in today's intensely competitive business landscape. But building high-performing teams is not a matter of chance. Effectively developing such teams involves identifying strengths and grouping people who collaborate well and complement the differing talents, skills, and attributes to create a holistic force that works consistently towards meeting challenges and business goals. This can seem like a daunting exercise, though the pay-offs far outweigh the efforts. To this end, IT Nuggets suite of corporate training courses can equip team leaders, managers, and supervisors with everything they need to develop strong and high-performing teams. From project management to business leadership to agile team formation and more, we have courses that are effectively tailored for every team size and business needs.